An elegant, sophisticated string quartet will create a truly magical experience as you walk down the aisle. Read on for everything you need to know ahead of booking.
A string quartet provides the perfect way to sound to start off a magical day. The melody of violins and cellos creates an elegant, sophisticated tone that will enhance your wedding ceremony and continue throughout your big day. String quartets create a truly magical experience as you walk down the aisle, while also dialing up the emotion in what is already an emotional moment for many people involved (make sure mum has tissues handy!).

We've put together this complete guide on what couples need to know before booking their quartet. We've also listed a collection of popular processional pieces you may like to consider, frequently asked questions quartets are often asked by brides to be, and our top picks of Auckland string quartets.

Why book a String Quartet?
Traditional or Contemporary

There are gorgeous traditional pieces like the classic Pachelbel's Canon in D or Schubert's Ave Maria, but a skilled quartet will offer so much more. For example, Findaband's The Black Quartet offers a wide range of contemporary artists' songs, from Gershwin and Cole Porter to The Beatles, through to top 40 pop artists such as Ed Sheeran. They can also learn a piece just for your big day if you need it.


Flexibility

No matter the song, a string quartet can match your pace. If you're using music from Spotify or iTunes for your aisle song, it's important to keep an eye on tempo so that the group doesn't move faster than expected when walking down the aisle. A string quartet can play at any speed and even repeat sections of their performance if needed because they are not restricted by time constraints like Spotify tracks are.

Customised to suit your needs

When it comes to selecting the perfect songs to suit your unique taste and style, you can have a lot of involvement in the pieces you would like, or just give the string quartet some brief ideas and they'll put together a wonderful selection of music. You could also do both - provide them with your "must-haves," which might be that special song to walk down the aisle to, then leave it up to them to create a magical evening.


A magical atmosphere at every moment

A quartet is a small ensemble group that includes no additional equipment besides their own instruments and four chairs. They do not need electricity to play, so resetting to a new location is a 5-minute job. After the ceremony, consider having your quartet entertain guests through the afternoon, or performing beautiful music through dinner.


Our Top PicK:
the black quartet
Genres: Classical, Pop

Unrivalled as New Zealand's premier string quartet, The Black Quartet is a sophisticated, versatile group of extremely talented young musicians, offering a contemporary take on this classic ensemble style. This Auckland String Quartet has collaborated with the likes of Kanye West, Six60 and Ladyhawke, appeared in television commercials and accompanied Hayley Westernra, performed at Christmas in the Park and Rhythm and Vines, toured the world and composed for some of the world's biggest brands.



A massive thank you to The Black Quartet for their superb performance at Tourism New Zealand's Business Events National Awards Dinner. They created a wonderful atmosphere and added another layer of sophistication to the event. Many of the guests commented on the calibre of the beautiful music and the great selection of classic kiwi songs they performed. I was also extremely impressed with their professionalism. Would highly recommend"


Selected Songs


Mozart
Eine Kleine Nacht Musik
Elgar
Salut D'Amore
Pachelbel
Kanon
Vivaldi
The Four Seasons
Satie
Gymnopedie
Handel
Trumpet Volountry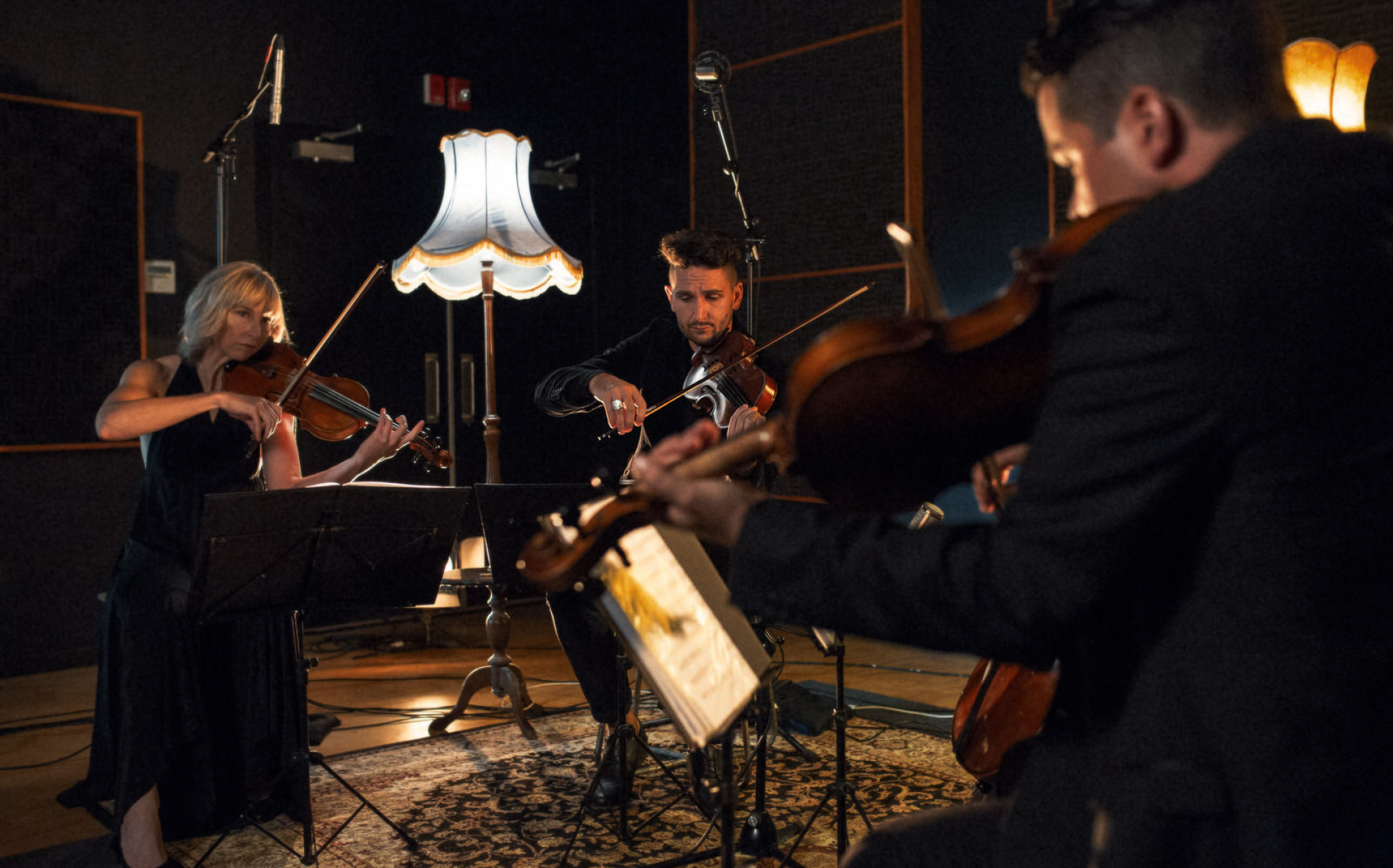 String Quartet Faqs


We spoke to The Black Quartet to learn more about what couples need to know before booking their quartet. We've also listed a collection of popular processional pieces you may like to consider, and frequently asked questions quartets are often asked by brides to be.


1. What do you need for your performance?
A quartet just needs four chairs. They will bring our own instruments and music stands.
2. What are the instruments in a quartet?
Two violins, a viola, and a cello
3. Can you perform as a trio?
Yes. This would be one violin rather than two.
4. What about a duo or soloist?
No. The music requires at least three different instruments to do it justice, and four is ideal.
5. Can you learn a song for me?
Yes. This may incur an additional charge depending on the song.


6. Will you play outside?
Yes. Quartets frequently performs in the sun for wedding performances. No quartet will perform in the rain (even light rain) for the sake of their instruments.
7. Can you travel?
Yes. This is no problem because a quartet is able to travel with minimal equipment.
8. Will my entrance music be the correct length?
Yes. String quartets are experienced at finding a suitable place in the music to finish, or repeating a section if necessary to ensure you arrive at the same time as the music is drawing to a close.
9. Do you require a meal?
If a quartet is to be on site for several hours including over dinner, then it is appreciated if a meal is supplied, but is not compulsory as a general rule.
Top 10 String Quartet Ceremony Songs

Music can evoke memories and transport you back to a significant period of your life. But, finding the right song for the procession could be difficult! But there is something magical about a string quartet that will give you and your guests chills as you walk down the aisle. For a ceremony that will make a statement, here are a few of our favourite classical songs to be played by a string quartet at your wedding.

Jesu Joy of Man's Desiring – J.S. Bach

Not too much and not too little, the warm, uplifting pace of this song will be cherished by many and make a musical statement during your ceremony and walk down the aisle.


Bridal Chorus - Wagner

More commonly recognised as "Here Comes the Bride", this is a piece that will enthrall everyone with its familiar sound. It's perfect for more formal and traditional ceremonies.

Canon in D – Johann Pachelbel

This enchanting, simple piece of music is often used at wedding ceremonies to create a sentimental and romantic atmosphere. A charming and elegant baroque tune that is sure to be a crowd-favourite among your loved ones as you make your way down the aisle.

Salut d'Amour - Edward Elgar

It's undeniable that this piece by Elgar conveys the romance of the day. It was given to Caroline Alice Roberts as an engagement present and is a lovely salon-style musical work.

Spring from The Four Seasons - Vivaldi

This violin concerto is the perfect accompaniment for your procession to remind you of new beginnings. The beauty in this piece provides the perfect backdrop to any more formal or lavish spring wedding.

Ave Maria – F. Schubert

With so many beautiful wedding songs it's hard to select just one. One of the most beautiful and classic choices is Schubert's "Ave Maria." The song has an elegant simplicity that makes for the perfect accompaniment to a traditional wedding.

Clair de Lune - Debussy

The third movement of Debussy's Suite bergamasque is a timeless depiction of moonlight. This stunning piece of music produced in the impressionist movement has enchanted listeners with its magical opening notes for decades and will add that same magic to your wedding day.

The Swan - Camille Saint-Saëns

With a solo cello playing over the rippling piano, The Swan from Camille Saint-Saëns' musical suite Carnival of Animals sets an elegant tone for your wedding ceremony. In classical mythology swans are sacred to Venus and thus this song is fitting as one walks down the aisle to say "I do."

All I Ask Of You - Andrew Lloyd Webber

From the musical The Phantom Of The Opera, this beautiful ballad is a timeless classic. This magnificent tune has been made famous worldwide for its eternal message: "Love never dies", making it one of the most romantic songs to be performed on stage.


Water Music – Finale – G.F. Handel
Handel, who composed his famous Water Music for King George I, presented a concert aboard a barge on the River Thames. The three suites making up this masterpiece are packed with tunes that would be perfect for an excellent wedding celebration!
Want to see more? Check out our full range of Auckland wedding bands and Auckland wedding DJs. If you need a little more help choosing, contact our team and we'll find the perfect artist for your special day.