Choosing the perfect wedding band can be a daunting process! With wedding season quickly approaching, we've taken the hassle out of finding your dream artist! Read on for our top picks in Hamilton!
When it comes to creating a magical wedding celebration, music is a big deal. So, it's important to choose the right band that fits your style and sets the perfect tone for your special day. Good news is, Hamilton has a whole lot of incredible wedding musicians to choose from. You'll be spoiled for choice with plenty of options to find the perfect fit for your dream wedding. Let's make your big day unforgettable! Here are our top 10 Hamilton wedding bands and musicians.
Party Bands
When it comes to keeping the party alive all night long, nothing beats the energy of live music! If you're looking for the perfect wedding reception band in Hamilton, we've got you covered. Check out these top picks that are sure to make your celebration unforgettable.
BANG BANG
Genres: Pop, Classic Hits, Top 40

Get ready to be blown away by the incredible talent of Bang Bang. Their repertoire spans across legendary artists such as Amy Winehouse, Fleetwood Mac, Michael Jackson, Queen, James Brown, Prince, Tina Turner, and more. From soulful ballads that touch your heart to high-energy hits that ignite the dance floor, this band is truly versatile. With their ability to cater to song requests and keep the dance floor packed, Bang Bang ensures an unforgettable night that will have you dancing all night long. Brace yourself for a musical journey that will leave you yearning for more.



Thank you so much again for the amazing show you put on at our wedding! We have had so many comments from guests of all ages about how great the music was and how much fun they had on the dance floor. You guys aced our first dance song request as well!
Selected Songs


Ed Sheeran
Thinking Out Loud
Mark Ronson, Bruno Mars
Uptown Funk
Nina Simone
My Baby Just Cares For Me
Van Morrison
Can't Help Falling In Love
Etta James
At Last
The Killers
Mr Brightside
Justin Timberlake
Can't Stop The Feeling
Taylor Swift
Shake It Off
Turtle Funk
Genres: Funk & Soul, Classic Hits, Top 40

If you're envisioning a beachy atmosphere for your wedding reception, look no further than Turtle Funk! This sensational three-piece band is exactly what you need to create a lively and feel-good ambiance. Specializing in upbeat tunes that will have everyone hitting the dance floor, Turtle Funk brings a fusion of talent from New Zealand and Brazil. With their warm and groovy music, you and your guests will be transported to a tropical paradise, immersing yourselves in the ultimate beachy vibe. As the sun sets, Turtle Funk will keep the party alive with their tight and energetic covers of iconic artists like Bob Marley, Bruno Mars, Sublime, and Stevie Wonder. Get ready for a memorable night of dancing and good times with Turtle Funk at the helm.


I had this fabulous band of my 60th birthday and they rock! So great to deal with and we danced all night! Highly recommend


Selected Songs


Maceo Parker
Yes We Can Can
Kool & the Gang
Celebration
Kool & the Gang
Get Down On it
Kool the Gang
Jungle Boogie
Bob Marley
Is This Love
Bob Marley
Three Little Birds
Bob Marley
Stir it Up
Harry Styles
Watermelon Sugar
Harry Styles
As It Was
Maroon 5
This love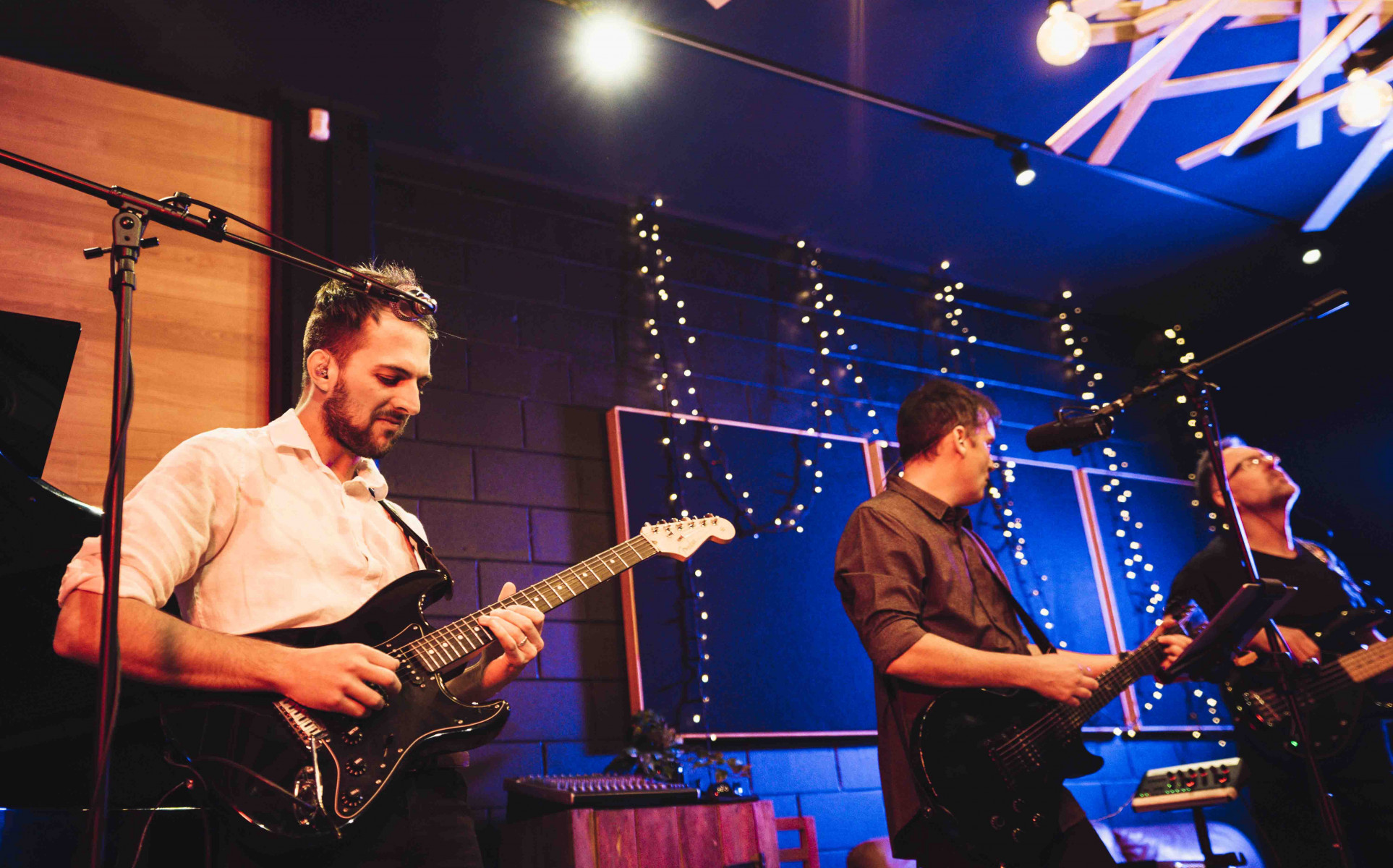 BSA
Genres: Top 40, Rock, Classic Hits


Get ready to rock the night away with BSA (Badly Stuffed Animals) as they bring your favorite hits from the 70s, 80s, 90s, and beyond to life. This highly skilled four-piece band is here to deliver an evening of high-energy entertainment, covering rock, classic, and pop hits that will keep the party going strong. With their exceptional instrumental skills and powerful vocals, BSA performs songs from legendary rock acts like Fleetwood Mac, The Eagles, Queen, and Toto. They flawlessly tackle crowd favorites such as "Bohemian Rhapsody" by Queen and "Rosanna" by Toto, displaying their versatility and ability to keep your guests on their feet and dancing. Get ready for a night of unforgettable performances as BSA rocks the stage, creating an electric atmosphere that will have everyone singing along and enjoying every moment.
BSA were absolutely awesome. They're easily the best wedding band I've ever seen. Just banger after banger, thanks you much.
Selected Songs
Queen
Bohemian Rhapsody
Journey
Don't Stop Believing
Fleetwood Mac
Go Your Own Way
Bon Jovi
Bon Jovi Medley
Billy Joel
Uptown Girl
Elton John
Crocodile Rock
The Knack
My Sharona
Darius Rucker
Wagon Wheel
Bob Marley
3 Little Birds
Dragon
Are You Old Enough?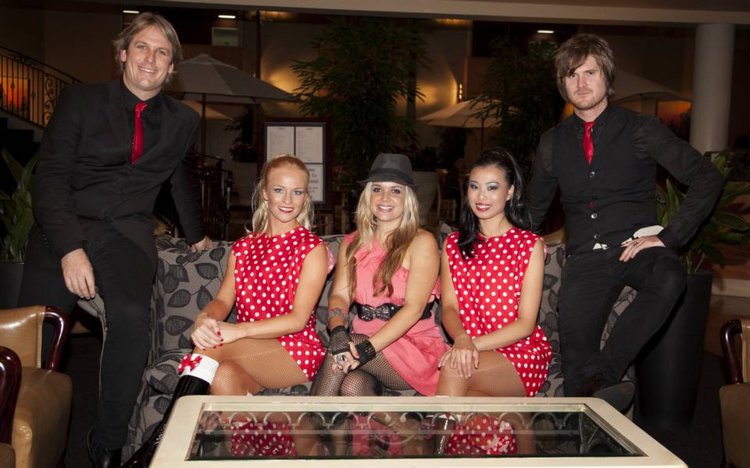 The Monroes
Genres: Classic Hits, Pop, Top 40

Prepare to be awestruck as The Monroes take the stage, leaving you with your jaw dropped in amazement. With a musical mission to captivate audiences, this band covers an impressive span of 50 years of music, from the timeless "Johnny B Goode" to contemporary hits by Katy Perry. The Monroes have mastered the art of reading the crowd and adapting their performance throughout the night to cater to the audience's tastes. With their infectious energy and talent, they guarantee a packed dance floor and smiling faces, which are the essential ingredients for an unforgettable wedding reception. Prepare yourself for an electrifying experience as The Monroes deliver a seamless blend of musical excellence and an unbeatable atmosphere that will leave you with memories to treasure.


Well, we had the best Saturday night at our Vascular Conference, The Monroes were sensational. I didn't think my group would be up dancing all night but they did to every song, I did thank the band again on Sunday morning. Thanks for your help and hope we can have them again in the future at another function.
Selected Songs


Bruno Mars
Uptown Funk
Ed Sheeran
Sing
Abba
Waterloo
Dragon
April sun in Cuba
Shania Twain
Man I feel like a woman
Queen
Crazy little thing called love
Roxette
The Look
Robin Thicke
Blurred Lines
The Police
Roxanne
Chuck Berry
Johnny B. Goode

Ceremony Musicians
When it comes to setting the right tone for your special day, wedding ceremony music plays a crucial role. Picture yourself walking down the aisle to a beautiful acoustic rendition of your favorite song, setting the perfect mood for your wedding day. To help you create that magical ambiance, here are my top picks for wedding ceremony musicians in Hamilton. They'll surely add that touch of enchantment to make your day truly special.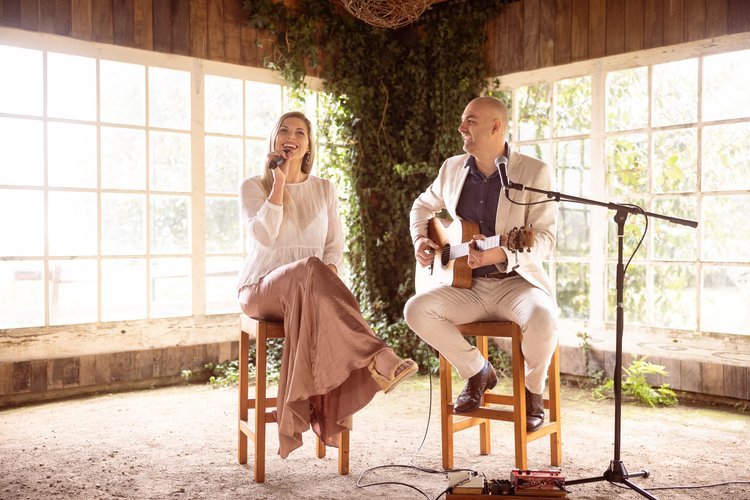 Golden Hour
Genres: Pop, Acoustic, Jazz & Latin

Golden Hour is the ultimate choice when it comes to creating a relaxed and romantic atmosphere at any event. With their skillful acoustic guitar and captivating vocals, Golden Hour specializes in Pop and Jazz, making them a perfect fit for wedding ceremonies and canape hours. With an impressive repertoire that includes hits from legends like Bill Withers, Fleetwood Mac, Aretha Franklin, and modern favorites like Dua Lipa, Golden Hour brings a delightful twist to classics and Top 40s hits with their acoustic arrangement and well-blended harmonies. Prepare for an enchanting musical experience with Golden Hour.


Thank you so so much for making it such a special night. We've had so many friends telling us how much they enjoyed the music. It really was brilliant - you guys created such a great atmosphere. Totally perfect. And loved the encore at the end!
Selected Songs


Stevie Wonder
Isn't She Lovely
Camila Cabello
Senorita
Estelle
American Boy
Jessie J
Price Tag
Otis Redding
Dock of the Bay
Michael Jackson
Bad
Duffy
Mercy
Fleetwood Mac
Rhiannon
Bill Withers
Lovely Day
Commitments
Mustang Sally
Sam Allen
Genres: Top 40, R'n"B, Funk & Soul


Sam Allen is a dynamic musician who adds a captivating hip hop twist to the singer-songwriter style, breathing new life into it. With a diverse setlist that includes iconic artists like Justin Timberlake and Kanye West, Sam seamlessly blends the best elements of pop, hip hop, funk, and soul. As a highly skilled guitarist and vocalist, Sam creates the perfect ambiance for a relaxing and romantic ceremony or cocktail hour. His performances effortlessly transition from delivering beautiful acoustic renditions of timeless classics to infusing his own soulful sensibility into pop, hip hop, funk, and soul tunes. Get ready to be amazed by Sam Allen's exceptional musical talents and his ability to craft an unforgettable experience that will leave a lasting impression.
Yes it went great thank you - Sam was a total legend, read the room and completely won everyone over. Super professional, and very easy to deal with which always helps. Will definitely be putting Sam forward for any relevant gigs going forward.
Selected Songs
Josh Kelly
Amazing
Black Seeds
So True
Estelle
American Boy
Will Smith
Fresh Prince Of Bel Air
Outkast
Heya
Tupac
California Love
R. Kelly
Ignition
Sonia Dada
Lover Lover
Peter Andre
Mysterious Girl
Luther Vandross
Never Too Much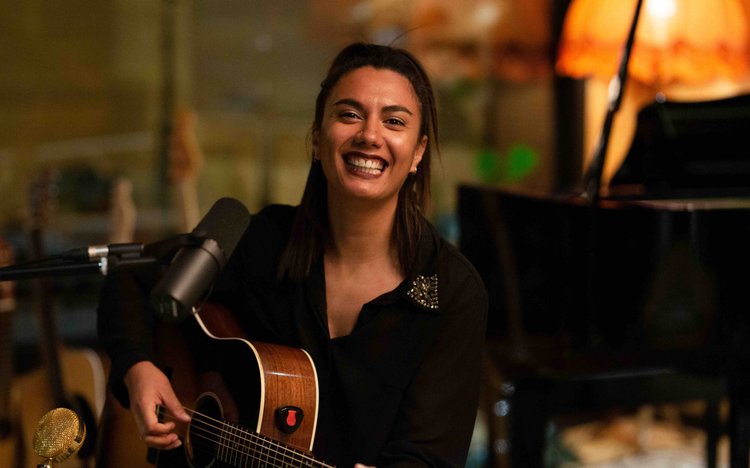 Asch Rose
Genres: Pop, Top 40

Prepare to be captivated by the enchanting performance of Asch-Rose at your wedding ceremony. With a voice that is rich, soulful, and powerful, Asch-Rose will leave a lasting impression on your guests. Asch-Rose combines her distinctive, smoky vocal tones with the melodic strums of an acoustic guitar, creating a unique and mesmerizing atmosphere. She takes contemporary hits like Miley Cyrus' "Nothing Breaks Like a Heart" and Sam Smith's "Dancing with a Stranger" and transforms them into something truly special, infusing her own artistic touch. She is also renowned for her remarkable interpretations of songs by Johnny Cash, Childish Gambino, Chet Faker, and Peggy Lee. With Asch-Rose as your wedding ceremony musician, prepare to be swept away by a truly unique musical experience that will add an extra touch of magic to your special day.
Everything went well! Asch-Rose was brilliant! Really lovely voice and soulful performance. She was very well received.
Selected Songs


Amy Winehouse
Valerie
The Police
Walking On The Moon
Sade
Smooth Operator
Tracy Chapman
Fast Car
REM
Something Got Me Started
MGMT
Electric Feel
Violent Femmes
Blister In The Sun
Bobby McFerrin
Don't Worry Be Happy
America
Horse With No Name
Chet Faker
No Diggity
Je Marco
Genres: Funk & Soul, Jazz & Latin, Top 40

Originally from Brazil, Je Marco has been residing in New Zealand since 2013, bringing with him a vibrant musical style. His easygoing acoustic performances encompass a delightful mix of reggae, funk, soul, and Latin tunes, radiating a sun-soaked and laid-back vibe. Whether you're sipping cocktails by the pool or enjoying beers by the beach, Je Marco's music is the perfect accompaniment. In addition to delivering crowd-pleasing hits by renowned artists like Stevie Wonder, Bruno Mars, and Fleetwood Mac, Je Marco also offers an extensive repertoire of beloved New Zealand tunes. Get ready to groove to the sounds of local favorites such as Six60, LAB, Tiki Taane, Katchafire, and The Black Seeds. Je Marco's performances will transport you to a carefree and beach-inspired atmosphere, making your ceremony truly unique.


Je!! You guys were amazing. I'm so sorry it was cold and your hands were freezing but you really made our night. The whole band was amazing and we got so many compliments for you. Honestly we couldn't have asked for better. For a group of musicians to want to dance to you guys all night, you guys nailed it!

Selected Songs


Toploader
Dancing in the moonlight
Michael Jackson
The way you make me feel
Gipsy kings
Volare
Ub40
Red red wine
Frankie Valli
Can't take my eyes off you
Maceo Parker
Yes We Can Can
Kool & the Gang
Celebration
Kool & the Gang
Get Down On it
Kool the Gang
Jungle Boogie
Bob Marley
Is This Love
Bob Marley
Three Little Birds
Bob Marley
Stir it Up
Harry Styles
Watermelon Sugar
Harry Styles
As It Was

Jazz and Classical Musicians
If you're looking to infuse your Hamilton wedding with a touch of elegance and sophistication, look no further. Classical and jazz artists are the ideal choice to craft a timeless and graceful ambiance that will enhance your special day. Allow us to present our top picks for classical and jazz wedding musicians in Hamilton, who will undoubtedly create a memorable and refined atmosphere for your wedding.
The Antibodies
Genres: Funk & Soul, Jazz & Latin, Pop

Get ready to experience something truly unique with The Antibodies. If you're seeking a wedding band that goes beyond the typical party trio, offering a blend of class, sophistication, and dance floor hits, look no further. The Antibodies seamlessly combine modern pop tunes, jazz and swing, Latin rhythms, and contemporary twists on timeless favorites. With their captivating jazz arrangements, The Antibodies infuse elegance and style into every performance, setting the perfect classy ambiance for your wedding. Their diverse setlist includes mesmerizing renditions of songs by The Weeknd, Gloria Gaynor, Ed Sheeran, and Ella Fitzgerald, ensuring a musical journey that caters to every taste. Prepare to be amazed as The Antibodies deliver an unforgettable experience, captivating your guests and creating a vibrant atmosphere that will have everyone on the dance floor. Embrace a wedding celebration that exudes class, sophistication, and the perfect blend of musical genres with The Antibodies leading the way.


Thank you so much again for the amazing show you put on at our wedding! We have had so many comments from guests of all ages about how great the music was and how much fun they had on the dance floor. You guys aced our first dance song request as well!

Selected Songs


Gloria Gaynor
I Will Survive
Post-Modern Jukebox
All About That Bass
The Weeknd
I Can't Feel My Face
Jessie J
Price Tag
Desree
You Gotta Be
Bill Withers
Just The Two Of Us
Corinne Bailey Rae
Put Your Records On
Dusty Springfield
Son Of A Preacher Man
Norah Jones
Don't Know Why
Ray Charles
Hit The Road Jack
Roxy Strings
Genres: Classical, Pop, Acoustic
Elevate the charm of your wedding with the exceptional talent of the Roxy String Quartet. Renowned as Waikato's leading string quartet, this group comprises four highly acclaimed classical musicians from the region. Roxy Strings specializes in performing popular hits from the 2000s in a captivating string quartet style, reminiscent of the enchanting soundtracks heard on shows like Bridgerton. Their unique interpretation adds a touch of elegance and sophistication to beloved pop songs. In addition, the quartet is more than happy to cater to traditional preferences, offering captivating renditions of classical pieces by renowned composers such as Mozart, Beethoven, Schubert, Debussy, and Dvořák. Whatever your musical requirements may be, the Roxy String Quartet is dedicated to creating a memorable and enchanting experience for your wedding.


Selected Songs


Pachelbel
Canon in D
Shane Filan
Beautiful in White
Christina Perri
A thousand years
Schubert
Ave Maria
Bach
Air
Thiele/Weiss
What a wonderful world
Bruno Mars
Marry you
Vivaldi
Spring
Coldplay
Viva la vida
Mendelssohn
Wedding March
Jeripoca
Genres: Country, Jazz & Latin, Top 40

Let Jeripoca take you on a musical journey to the sun-kissed beaches of Brazil with their captivating performances. Specializing in the vibrant rhythms and melodies of Samba, Forró, Afoxé, and Bossa Nova, Jeripoca creates a truly immersive and unique musical experience. Their setlist showcases the works of renowned Brazilian artists like Nara Leão, Elizeth Cardoso, Djavan, and João Gilberto, transporting you to the enchanting shores of Ipanema. With Jeripoca, you can expect a warm and soothing ambiance that embraces the rich musical heritage of Brazil. Drawing inspiration from world music and jazz, Jeripoca infuses their performances with a global flair, resulting in a sound that is both authentic and exploratory. Prepare to be captivated by their rhythmic improvisations and harmonically sophisticated arrangements, as they bring an unmistakably Brazilian musical experience to life.


Great vibe! Fantastic music to dance to or to just relax and enjoy. A most enjoyable evening

Selected Songs


Maro
Deixa
Nara Leão
O barquinho
Elizeth Cardoso
Chega de saudade
Dorival Caymmi
Saudades Da Bahia
Dorival Caymmi
Morena do mar
João Gilberto
Aquarela do Brasil
Dean Lewis
Wave
Antônio Carlos Jobim
Passarim
Djavan
E que Deus ajude
Djavan
Para-raio
Ben Wilcock
Genres: Jazz & Latin

Elevate your wedding to new heights with the exceptional talent of internationally acclaimed pianist and composer, Ben Wilcock. Known for his smooth and jazzy performances, Ben will create a musical experience that is simply unforgettable. With a repertoire that spans across generations, Ben masterfully performs timeless classics from renowned artists like Ella Fitzgerald, Louis Armstrong, and Nat King Cole. These beloved melodies will transport you and your guests to a world of elegance and sophistication. In addition to his captivating interpretations of beloved classics, Ben also showcases his own compositions, adding a touch of originality and artistry to your special evening. Prepare to be mesmerized by the seamless blend of timeless favorites and Ben's own musical creations. Let Ben Wilcock's extraordinary talent fill your wedding with enchanting melodies, ensuring an elegant and refined atmosphere that will leave a lasting impression on you and your guests.


Wilcock is an engaging pianist and composer. At times his playing brings to mind Thelonious Monk, particularly in the faster bop tracks

Selected Songs


Ray Charles & Betty Carter
People Will Say We're in Love
Erroll Garner
Misty
Fats Waller
I'm going to it right down and write myself a letter
Ray Charles
Georgia on my mind
Edith Piaf
La Vie en Rose
Dave Brubeck
In your own sweet way
Sinatra
Fly me to the moon
Sarah Vaughan
Body and Soul
Eroll Garner
There will never be another you
Sarah Vaughan
Ternderly

We hope you've found some fantastic inspiration from our lineup of Hamilton's best wedding bands for 2024. They're guaranteed to make your special day an unforgettable experience! Whether you're envisioning a wild and energetic party or a more traditional and elegant affair, we've got the perfect band just waiting for you. But if you're still unsure about which one to choose, don't worry! Our awesome team of experts is here to help you find your ideal match. Just get in touch with us, and together we'll make sure your wedding is filled with incredible music that sets the perfect mood. Let's make your big day the one everyone talks about!